It didn't take a genius to decide that our first
wine should be a Rose. Pink says it all, and Rose
wines are increasingly popular all year round.
Our vineyards are in the southern Okanagan, one of the most beautiful winegrowing regions in the world. They are planted to Merlot, Cabernet Sauvignon and Cabernet Franc, the classic Bordeaux varietals.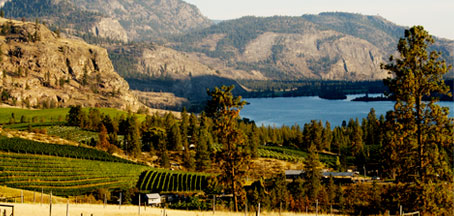 After harvesting we bring the grapes to the winery. We crush and destem, and then put the grapes in a stainless steel vat. The clear juice seeps out of the red berries, and after 18-24 hours of skin contact it turns a bright pink.
We quickly drain the juice off the skins, so it does not turn any deeper in colour. The fermentation then kicks in, and the sweet juice starts to slowly convert to alcohol. We like to do a long slow fermentation, lasting 3 weeks, because it enhances the aromatic intensity of the wine and creates a clean, pure, vibrant mouthfeel.
After six months of ageing we bottle the wine up, so it's youthful and fresh, and ready to be enjoyed, straight away.
The colour is a bright pink, the nose is floral with aromas of raspberry and strawberry, intense and fragrant. The palate is dry, medium to light bodied, with a thread of acidity giving a beautiful refreshing quality to the wine, and helping to create a clean lingering aftertaste.
The 2012 Voluptuous Red is a blend of Merlot, Cabernet Franc and Petit Verdot, fermented in small 1.5 ton fermenters and aged for 18 months in all new French oak barrels from top coopers including François Frères, Taransaud and Seguin Moreau.
The wine offers a beautiful medium to deep ruby red colour, the nose shows youthful fresh notes of raspberry, red cherry, cloves and anise. The palate is dry, medium to full bodied, with bright acidity and a soft smooth tannin texture. Best paired with grilled or slow-roasted meats, or on its own with friends and family.
So crack open a bottle, pour yourself a glass, and either enjoy it all by itself or with some seafood or a healthy salad. And when you take a sip, just know that we can't wait to go down to the Canadian Breast Cancer Foundation with a big cheque, all thanks to you.